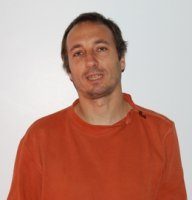 Career
Since 2010: Professor at Université de Strasbourg (28eme section CNU). Research in Institut Charles Sadron (ICS-UPR 22), Strasbourg, France.
1998-2010: Teaching assistant at Université de Strasbourg (Institut Charles Sadron).
September 19, 2002: Diplôme d'Habilitation à Diriger des Recherches, ICS, Université Louis Pasteur. Jury made of E. Charlaix, T. Baumberger, J. F. Joanny, G. Porte and P. Martinoty.
1997-1998: Post-Doctoral position in Collège de France, Paris, team Pr. Liliane Léger, "Stick-slip Instabilities in highly entangled polymer melts".
Octobre 1997: PhD in Physic at Université Joseph Fourier, Laboratoire de Spectrométrie Physique, Grenoble, supervisor Professor Bertrand Fourcade. Jury made of B. Fourcade, F. Graner, J. F. Joanny, M. Daoud and G. Porte.
Teaching an Research Experiences
Teaching of General Physic in Licence (TD et TP), Statistical Mechanics, Polymer Physics, Soft Condensed Matter and Special Relativity in Master (Cours, TD et TP).